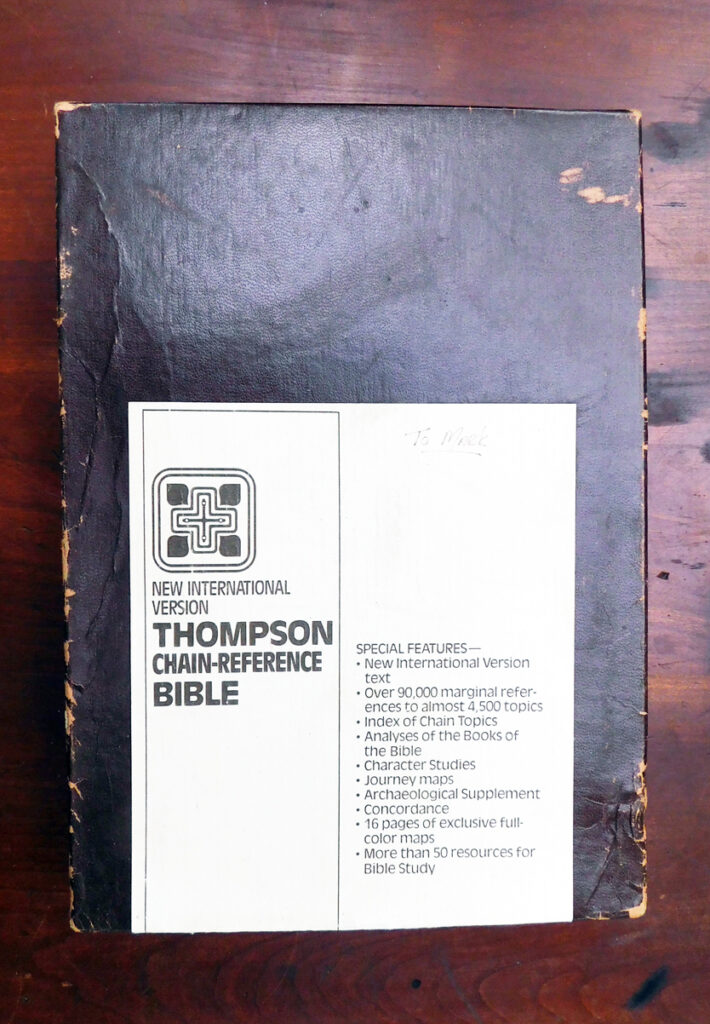 For the Christmas 1984, I gave each of my children, Mark being one, a Bible. I hoped this Bible would be a light to them along their paths. This was over 38 years ago. Much has passed since then.
Mark died on March 18th, 2023. His life was much too short. He was born in 1966, December 9th.
One rainy day after Mark had died, I happened to go out the west passage door of our garage. This was not a normal way out for me. Much to my surprise, this Bible in its original worn box was laying on the concrete walk in front of me. I learned later one of Mark's daughters, Kelcie, had returned it to me. I am grateful.
What did I see. I saw something Mark had treasured for over 38 years. I saw a Bible he had protected in its original box that was now worn on its edges. I took the Bible from the box and opened the leather cover. Inside I read, ….. "In All Your Ways, Acknowledge Him; And He will make your Paths Straight"; Proverbs 3:6. And I read, "To Mark, With Much Love, Your Pop. Christmas 1984"
And there was the original letter I had written to my children. The last paragraph reads… "I love you all very much and I hope this Bible will help make your Way a little easier as you go. Look for the gems as you read and your life will become fuller for it. Remember, the teachings and truths all already reside in your own hearts and the Bible cannot really tell you anything you do not already know deep inside. It can only help bring them to your consciousness."
But what caught my most attention was the red ribbon marker. I opened the page marked. There was the 23rd Psalm in front of me. There was the Psalm Mark had chosen to make his favorite….. 'The Lord is my shepherd…….. Surely goodness and love will follow me all the days of my life, and I will dwell in the house of the Lord forever."
His father misses the good days we had.