There is man from Richmond, Virginia, who has had an enormous but quiet impact on the lives of reporters across the country and, subsequently, on the stories told to readers and viewers everywhere. The man's name is Tom Edwards.

Tom was the proprietor of a shop called, The Stationers Inc. It was from that shop that Tom manufactured and sold wire bound writing pads called the Reporter's Note Book. It was 4 inches wide by 8 inches tall; the perfect size to fit into a purse, hip pocket, or jacket pocket. It was in these note books that reporters wrote the information they needed to eventually write their stories.

I have no idea how many note books Tom sold over the years. It had to be thousands. I only know that I have saved in my desk drawer note books from 1995 which is 13 years after I left the Kokomo Tribune behind me for a while. I remember having Tom's note books with me during the 20 years between 1961 and 1982 while there.

I talked on the phone with Tom in 2015 when I ordered 2 dozen note books. He told me he was the grandson of the original owner. So, only Lord knows how many note books have come from the Stationers, Inc over many, many decades. I ordered 2 dozen to keep some and to hand out to some journalism students at Indiana University Kokomo. They loved them.

I tried to order more a few months ago only to learn that Stationers Inc no longer existed. Tom had died at the age of 66 in December 2020. The store was closed. So, an era has passed.

Tom's little Reporter Note Books will forever be remembered by hundreds if not thousands of reporters. In his own way, Tom and his family have helped to make freedom of the press in our country real.

God Bless and Rest in Peace, Tom.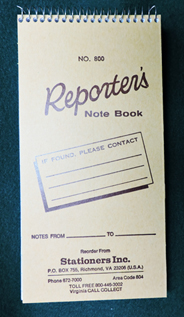 Kent H Blacklidge Ph.D.
Past Publisher, The Kokomo Tribune